Whimsical Treats & Desserts For A Sprinkle Of Magic This Christmas
Now that December is here, it's time to start shopping for Christmas cakes, gingerbread cookies and other Yuletide goodies. Feast your eyes on these whimsical treats to make your Christmas extra magical.
1. PrimaDéli
This year, PrimaDéli unveils several gorgeous cakes in honour of Yuletide celebrations. Marvel at the intricately handcrafted Santa's Cottage, made with velvety strawberry cream cheese and moist vanilla sponge cake, or sink your teeth into the limited-edition Whimsical Garden, a decadent chocolate sponge cake layered with chocolate cream and dark sweet cherry filling. Adorned with reindeer and sprigs of holly, this woodland-themed creation looks almost too good to eat!
Find out more here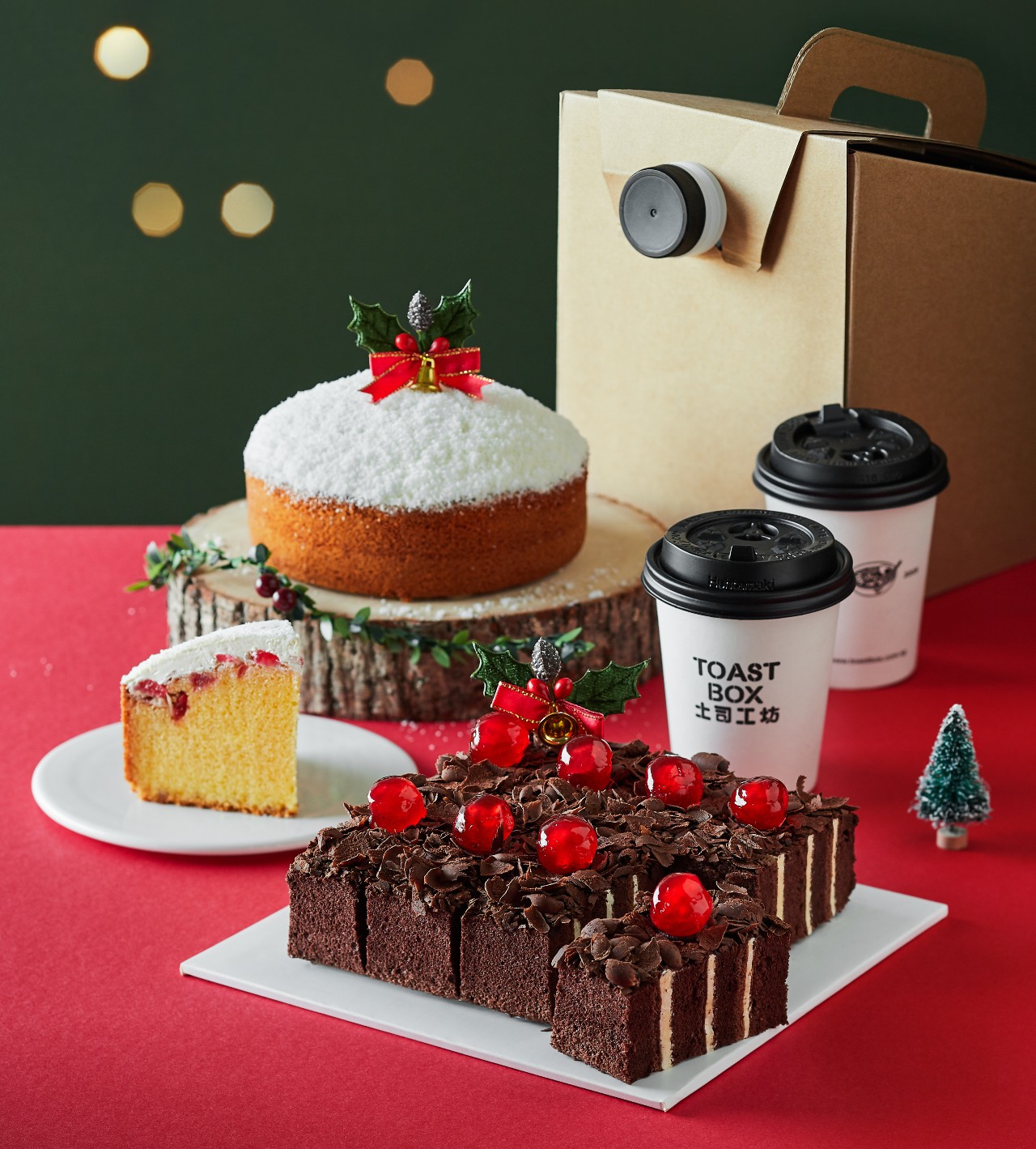 2. Toast Box
Toast Box adds a dash of local flair to Yuletide delights with its Christmas Sharing Bundle, which contains one Christmas whole cake and a Kopi-To-Go (approximately 12 to 14 small cups' worth of kopi).
Choose between two equally delectable cakes: the Winter Cherry Butter Cake, which channels the beauty of a snowy wonderland through a smooth layer of buttercream, topped off by a generous sprinkle of desiccated coconut, or the Choco Cherry Forest Cake, a spongy chocolate chiffon cake drizzled with chocolate ganache and dotted with glazed red cherries for a festive touch.
Find out more here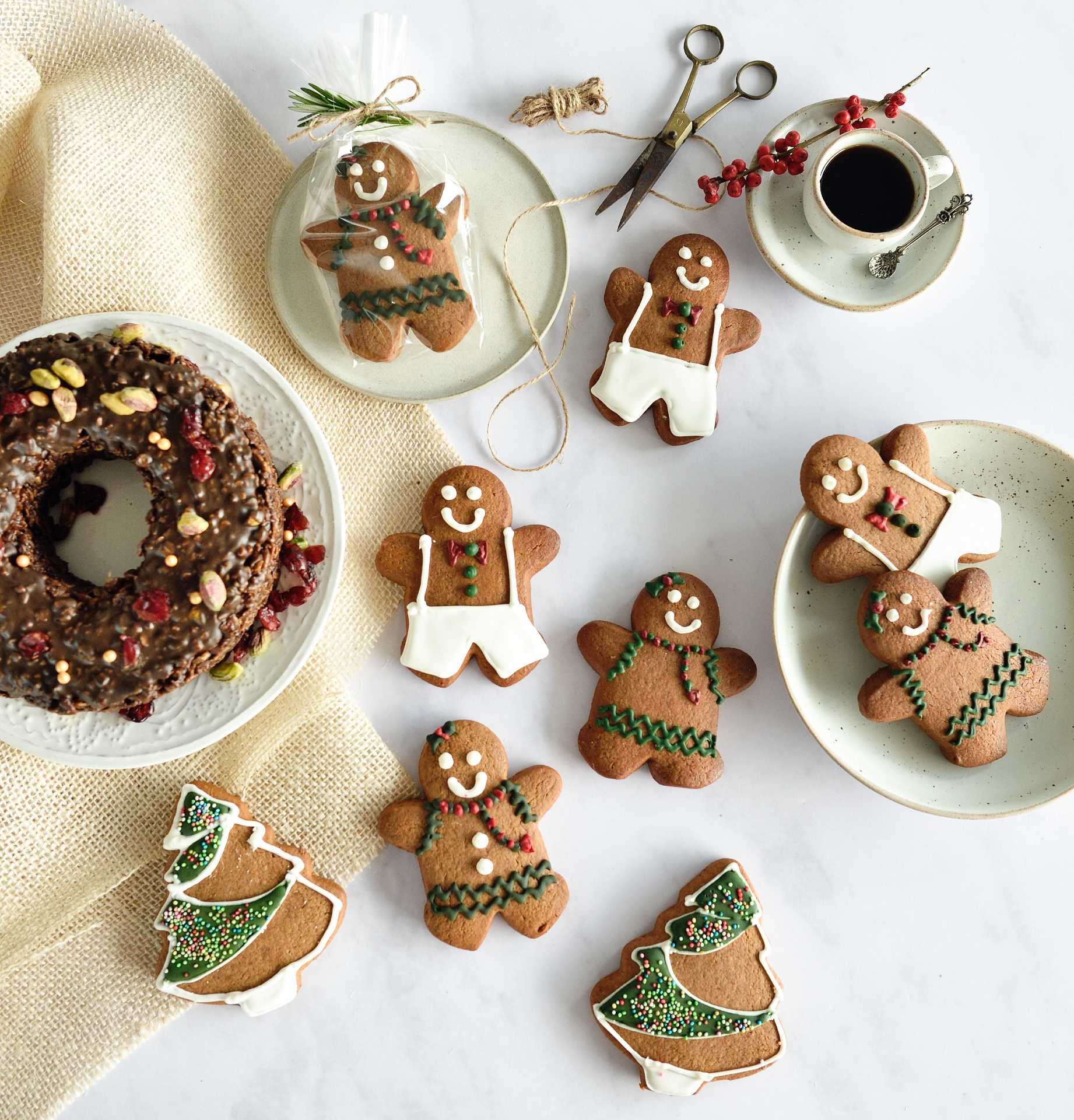 3. Da Paolo Gastronomia
Fancy a snack? Why not nibble on a piece of gingerbread from Da Paolo Gastronomia's online store? Choose from a cute Christmas tree cookie decorated with colorful "baubles" (aka sprinkles), or a cheerful gingerbread girl or guy dressed up in festive outfits.
Hungry for more? Go all out with a simple yet elegant Gingerbread Christmas Tree, made of several tasty gingerbread pieces stacked together to build a mini Christmas tree, complete with gingerbread star on top.
Find out more here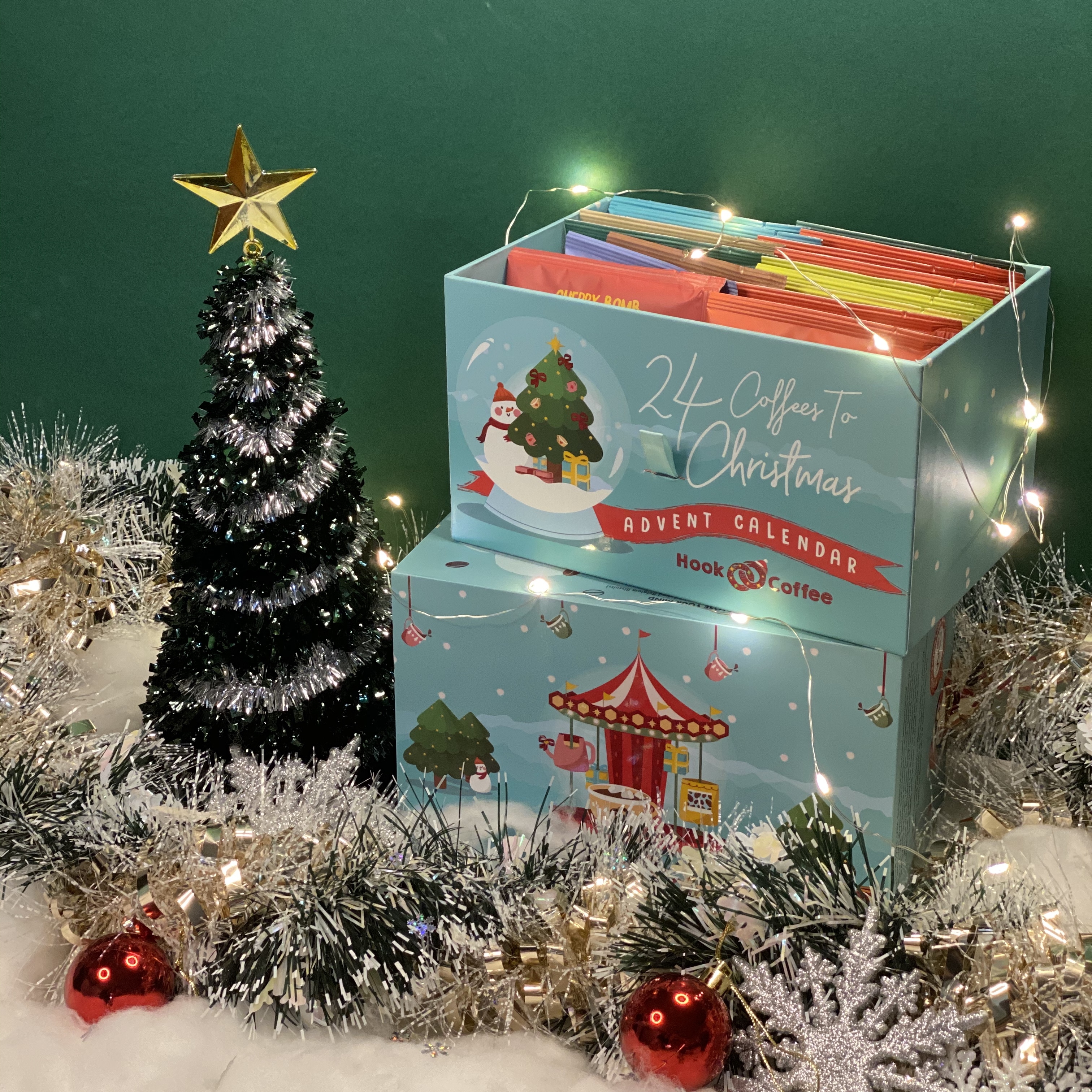 4. Hook Coffee Advent Calendar
For something warm to drink alongside your sweet desserts, check out this special advent calendar by Hook Coffee. Count down to Christmas Day with 24 days of unique coffee blends, featuring a mix of crowd-favourites like Specu-lose Your Mind and special-edition Christmas flavours like Cake It Easy and Kiwi Me Softly.
Each advent calendar set comes with 24 drip coffee bags, an advent calendar poster and a sticket set, all featuring artwork by students from Very Special Arts (VSA) Singapore, a non-profit organisation which provides opportunities for persons with disabilities to be involved in the arts sphere.
Find out more here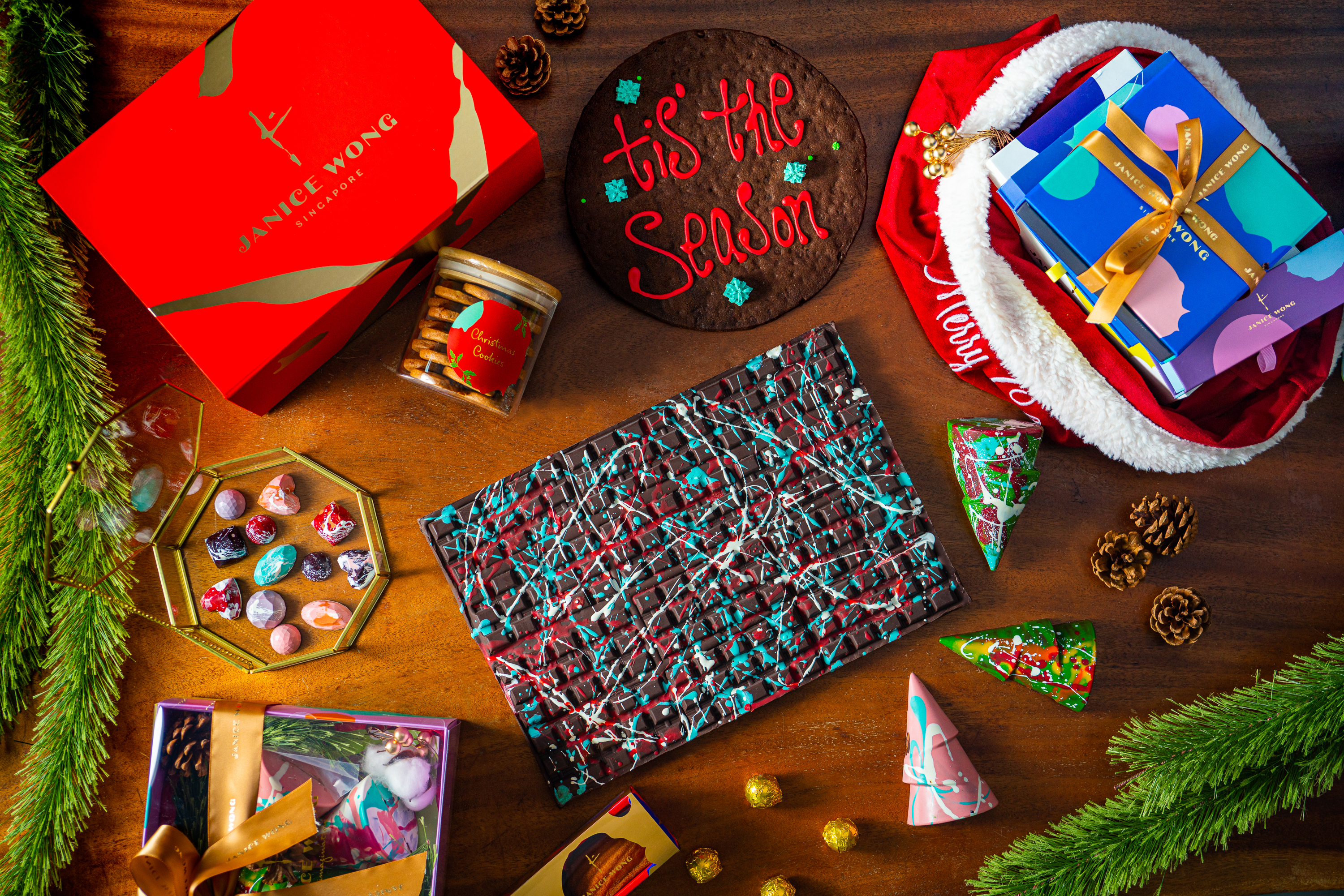 5. Janice Wong presents a Larger than Life Christmas
If you have a HUGE sweet tooth, Janice Wong's Christmas collection is right up your alley. Feast on a colourful variety of goodies such as oversized Christmas cookies (large enough to be used as coasters!), a "jewellery box" of chocolate gems in different flavours like mulled wine, apple pie and peppermint, and even an XXL Dark Chocolate Bar, clocking in at a whopping 1.4 kg!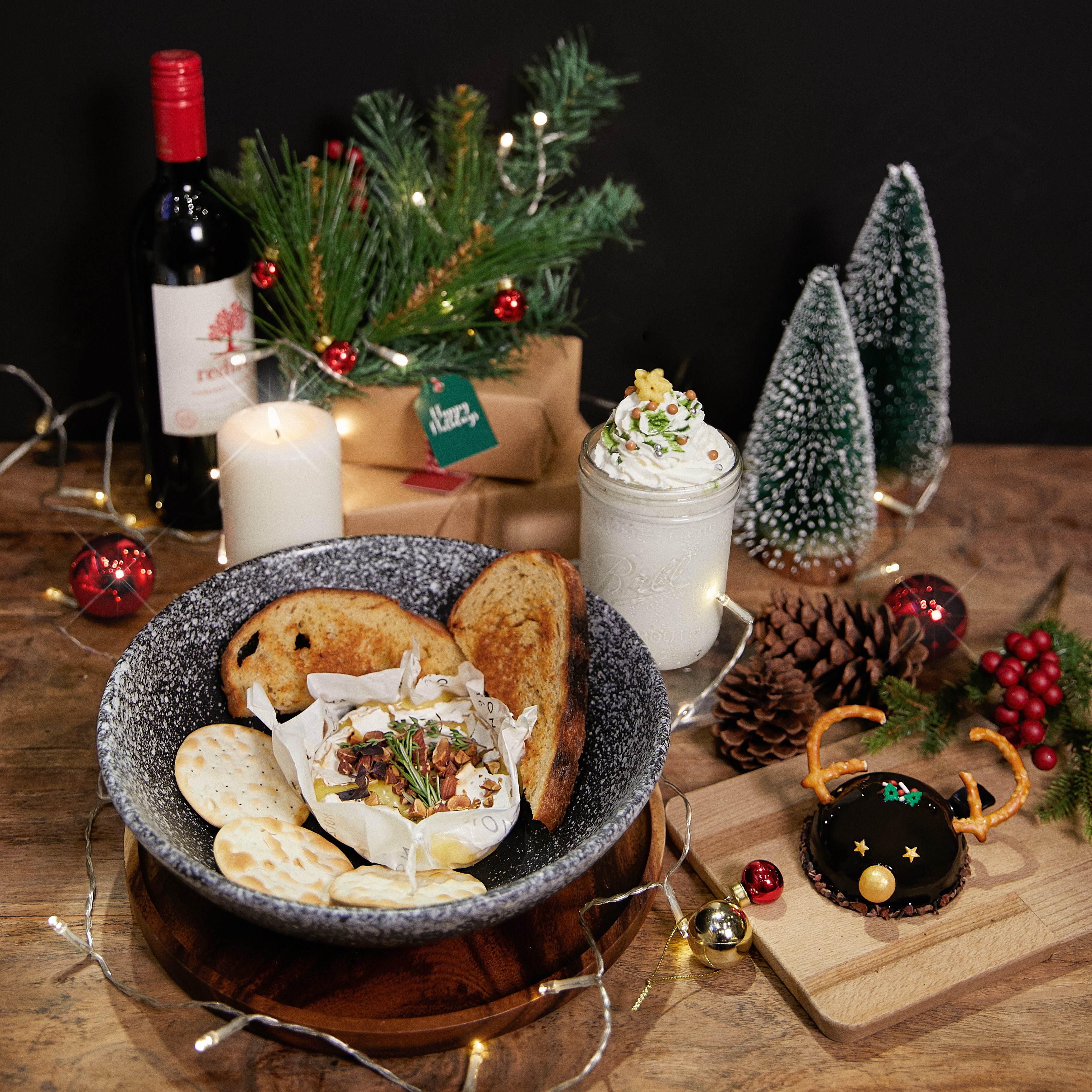 6. PAZZION Café Christmas Merriment
Whether you're a living embodiment of the Christmas spirit or a total Scrooge, PAZZION Café has something for you. Meet PAZZION Café's Christmas menu, which features three special dishes designed to spread a bit of Christmas cheer.
Take a bite of the adorable yet sinfully rich Rudolph's Chocolate Wonderland (no glowing red nose, unfortunately, though it's made with mini pretzels for his antlers), then wash it down with The Grinch's Dream, a smooth and creamy milkshake topped off with a whipped cream Christmas tree (complete with silver candy balls and cereal honey stars for decor).
Sugar overload getting to you? Cleanse your palate with Mrs Claus' Cheesy Cravings, a scrumptious camembert cheese bowl garnished with thyme, toasted almonds and mouth-watering sourdough bread.
Find out more here
7. Paris Baguette
Here's a treat for both kids and the young at heart: Paris Baguette's layered pancake cakes, all dressed up for the holidays. The Christmas edition of this delicious dessert comes in two flavours: Gift From Santa Yogurt Cake and Gift from Santa Choco Cake. Whichever flavour you choose, the tower of pancakes is dotted with fresh fruits and topped off with a cheery figurine, giving it a quirky yet appealing look.
Find out more here
8. BreadTalk
No matter what type of cake or bread you enjoy, you'll be spoiled for choice by BreadTalk's Christmas specials. From seasonal donut flavours like Kit Kat Snowy and Strawberry Love to gingerbread cookies (both the ready-to-eat sort and DIY sets for you to decorate), festive croissant towers and even a Deck the Tree chocolate chiffon cake (coated in a swirling layer of Matcha White Chocolate Cream), this selection of Yuletide pastries has something for everyone.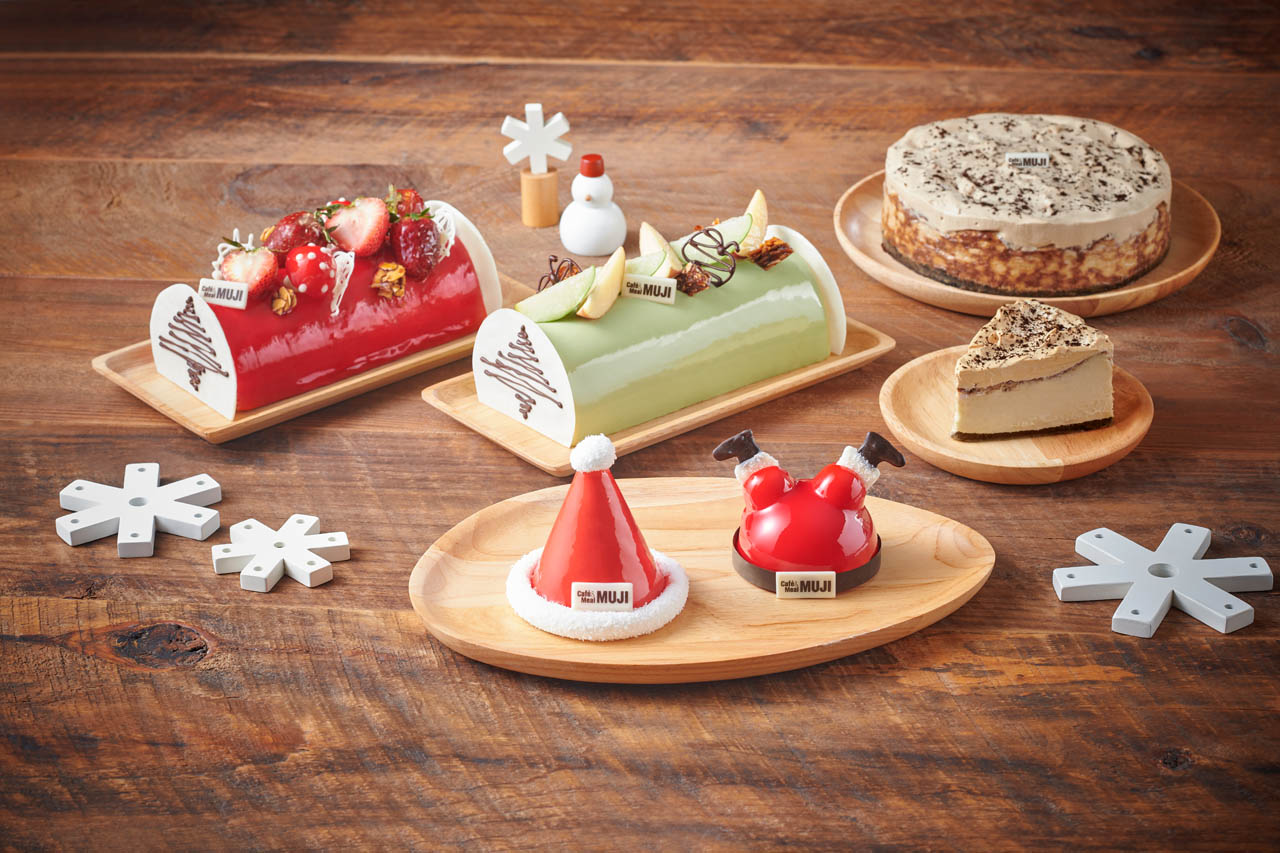 9. Café&Meal MUJI
If you need a pick-me-up in the midst of Christmas shopping, pop into Café&Meal MUJI for a festive snack. You can munch on an mini strawberry mousse Santa hat, or, if you're feeling naughty, Santa's legs and, ahem, derriere, a cheeky representation of Santa stuck in a chimney.
In addition, be sure to try the newly launched Coffee Burnt Cheesecake, an innovative rendition of the popular burnt cheesecake dessert, now infused with an aromatic undertone of coffee.
Find out more here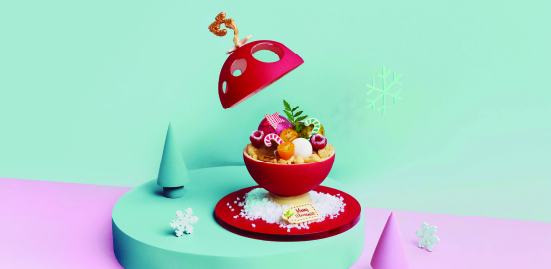 10. Resorts World Sentosa
Resorts World Sentosa has plenty of festive goodies available, such as the Snowing in Singapore cake, a fluffy pandan chiffon sweetened with gula melaka, as well as Yuletide treats from overseas like traditional Swiss Christmas cookies and mini Italian Panettone (sweet bread).
But the star of the show has to be the Elderflower Festive Ball, a beautifully crafted masterpiece that's both divine and IG-worthy. Upon cracking open the ruby-like praline shell of this delicate concoction, you'll be greeted with a treasure trove of sweet treats including elderflower-infused sponge, crunchy nutty streusel and a confit of luscious red fruits.
Find out more here
For the latest updates on Wonderwall.sg, be sure to follow us on Facebook and Instagram. If you have a story idea for us, email us at [email protected].