Our Pledge, Our People, Our Singapore - Scenes From NDP 2019
Ever wondered about the origins of our National Pledge? According to the National Heritage Board's website:

The 1950s and 1960s were a time of communal tension and racial riots. Hence, there was a pressing need for the young nation to forge a common identity and sense of belonging among citizens of different races and religions.
"When we separated from Malaysia, we were trying to inculcate national consciousness that we are now independent from Malaya. So I thought, we need to have something to gel the people together."—Oral history interview with Mr Ong Pang Boon by the National Archives of Singapore, 2007.
In October 1965, Mr William Cheng, Principal Assistant Secretary of Administration of the Ministry of Education, mooted the idea of a pledge to inculcate national consciousness and patriotism in schools. The idea gained the support of then Minister for Education, Mr Ong Pang Boon, who gave the task of drafting the pledge to Mr Philip Liau, Advisor on Textbooks and Syllabuses, and Mr George Thomson, Director of the Political Study Centre.

Mr Ong sent the two drafts to the late Mr S. Rajaratnam, then Minister for Foreign Affairs, for his comments. After that, the draft underwent another round of revisions by Ministry officials as well as then Prime Minister Mr Lee Kuan Yew before submission to the Cabinet for final approval.

Since then, the pledge has been recited by students at the start of the school day, and during the National Day Parade and school assemblies. Now you know!
And ICYMI, something really interesting popped up on Facebook last National Day: Home Affairs and Law Minister K Shanmugam posted a photograph of a letter that Mr S. Rajaratnam had written to Mr Ong Pang Boon on 18 Feb 1966.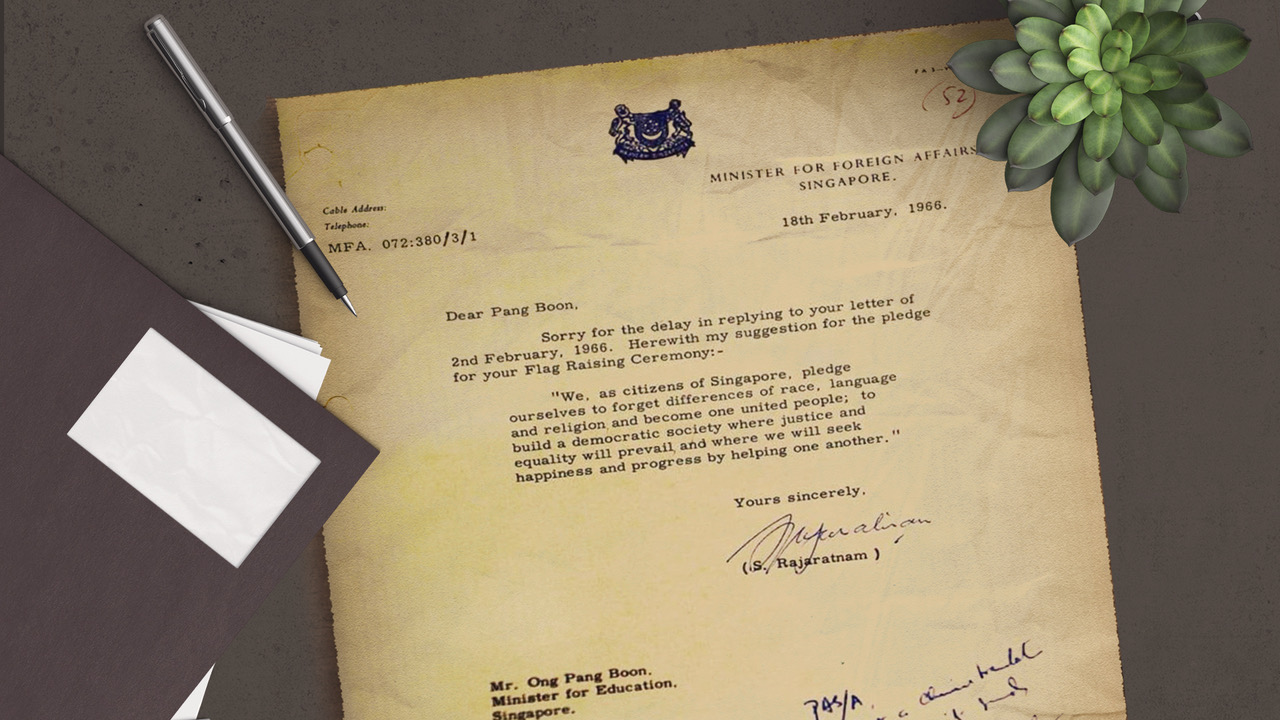 The letter reads:
Dear Pang Boon,
Sorry for the delay in replying to your letter of 2nd February, 1966. Herewith my suggestion for the pledge for your Flag Raising Ceremony:
"We, as citizens of Singapore, pledge ourselves to forget differences of race, language and religion and become one united people; to build a democratic society where justice and equality will prevail and where we will seek happiness and progress by helping one another."
How interesting to see what our Pledge might have been!
Meanwhile, we hope you enjoy all the feels in the video we've created of our Pledge and scenes of memorable moments at this year's National Day Parade previews.

Have you also seen our Chan Mali Chan longboard music video and Our All Time Favourite NDP Songs: Head-To-Head? Check 'em out now for more National Day feels!
Got a story idea for us? Email us at [email protected]