31 Team Singapore Athletes (Including A Debutant Who Is 76!) At Asian Para Games
This year, 31 para athletes have been selected by the Singapore National Paralympic Council and are settling in (if they haven't already made themselves at home) at the Athletes Village in Hangzhou, China, where the 4th Asian Para Games (APG) will be held.
This year's APG, which will run from 22 to 28 Oct, will see Team Singapore athletes representing the Lion City in nine sports.
As we cheer them on, here are some interesting APG- and Team Singapore-related facts: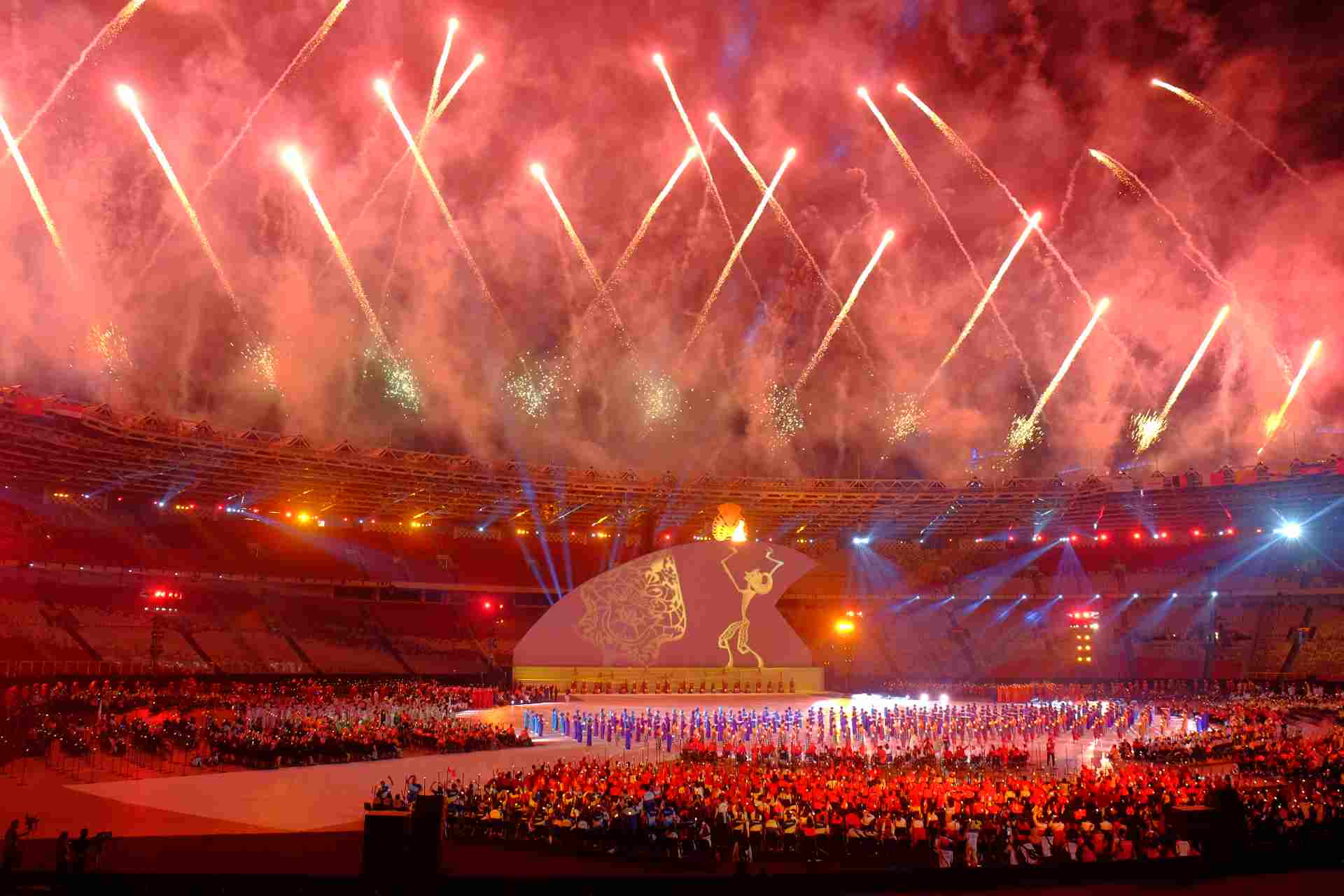 Opening of the 2018 Asian Para Games at Gelora Bung Karno Stadium in Jakarta, Indonesia. | IMAGE: WIKIMEDIA COMMONS/@RAIYANIM
What are the Asian Para Games?
Held quadrennially (once every four years), the APG was previously known as the Far East and South Pacific Games (FESPIC) for the disabled.
The inaugural APG, held in Guangzhou, China from 13 to 19 Dec, 2010, marked a significant milestone in the realm of adaptive sports in Asia. The event saw 24 athletes representing Team Singapore in six out of the 19 sports, including athletics, badminton, boccia, handcycling, swimming, and tenpin bowling. In this historic edition, Singapore secured four bronze medals, two swimming by Theresa Goh, and two in tenpin bowling doubles events by Rex Tan, Anuar Saaid, Thomas Phen and Mohammad Ismail.
At the second edition of the APG, this time held in Incheon, South Korea, from 16 to 24 Oct 2014, 53 Team Singapore athletes competed in 11 sports, and took home six medals: Singapore's maiden gold (thanks to sailors Jovin Tan and Yap Qian Yin), one silver and two bronzes in swimming (go, Theresa Goh!), and two more bronzes in tenpin bowling.
The 2018 edition, held in Jakarta, Indonesia from 6 to 13 Oct that year, Team Singapore sent a contingent of 44 athletes to participate in 10 sports. They bagged 10 medals (three gold, two silver, and five bronze) in swimming, tenpin bowling, boccia and cycling.
It's 2023 - why is this year's event called the 2022 Asian Para Games?
Originally scheduled for 9 to 15 Oct 2022, this edition of the APG was postponed because of the COVID-19 pandemic.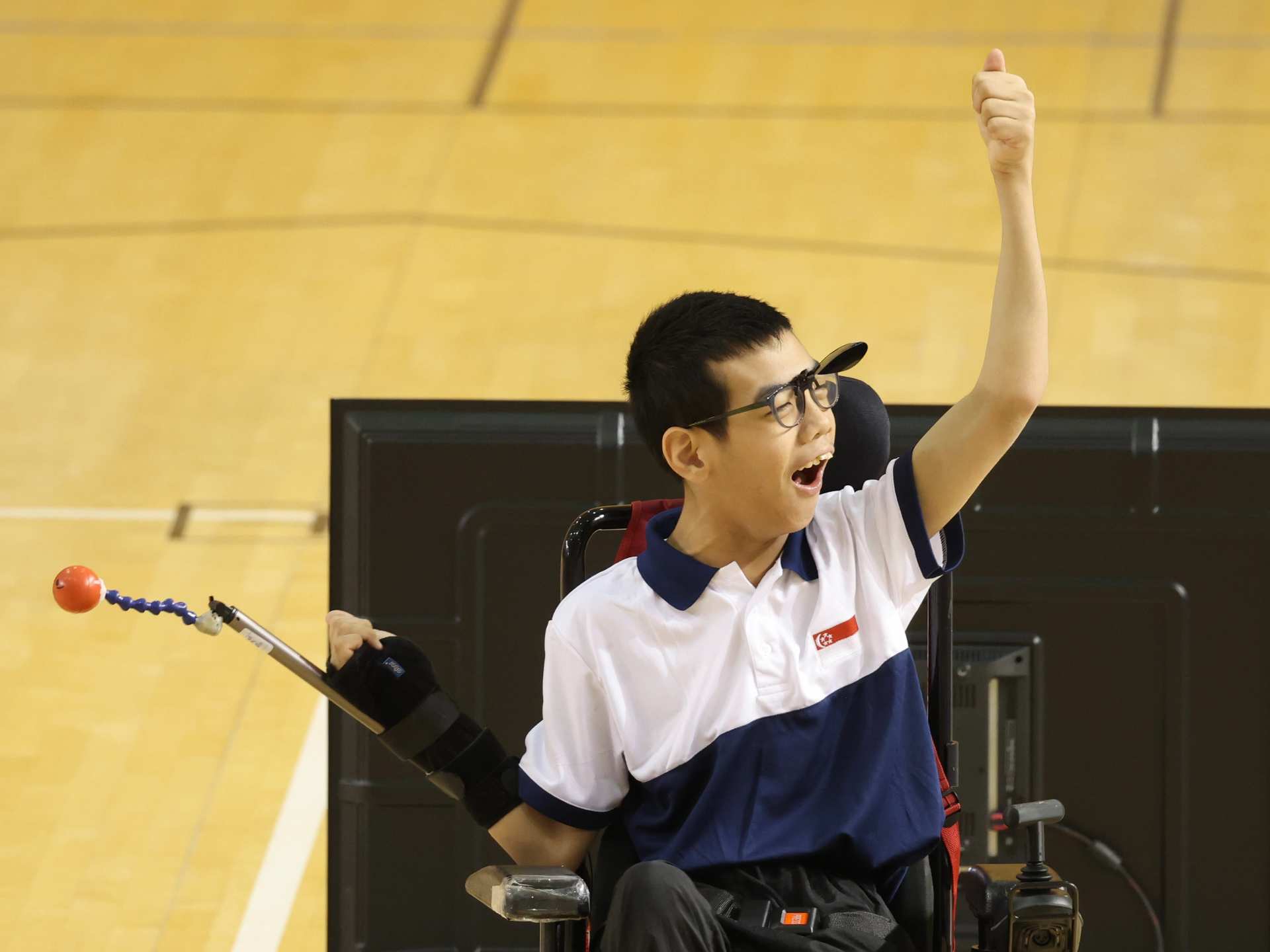 Boccia athlete Aloysius Gan. | IMAGE: SINGAPORE NATIONAL PARALYMPICS COUNCIL
Who's the youngest Team Singapore athlete at the APG?
Boccia exponent Aloysius Gan. "Although I'm the youngest in the contingent and there are many stronger players, I will do my best to make Singapore proud," says the 17-year-old, who is an APG debutant.
Aloysius began his training at the age of seven in the Boccia CCA in Cerebral Palsy Alliance School (CPASS).
At the Tiger Balm Singapore Boccia Open 2018, he put up a tough fight against more seasoned athletes from top Boccia countries like Korea and Thailand, earning a respectable 4th placing in the BC3 Individuals event. Aloysius also made a formidable pair with his senior, Toh Sze Ning, and snatched silver in the BC3 pairs event.
In 2020, Aloyisus was appointed as his school's Boccia CCA captain to guide and mentor his juniors. Since taking on the captain role, Aloysius has received the 2020 Leadership Award from CPASS. He was also named the Sportsboy of the Year (Resilience) for the year 2021 at the Singapore Disability Sports Awards.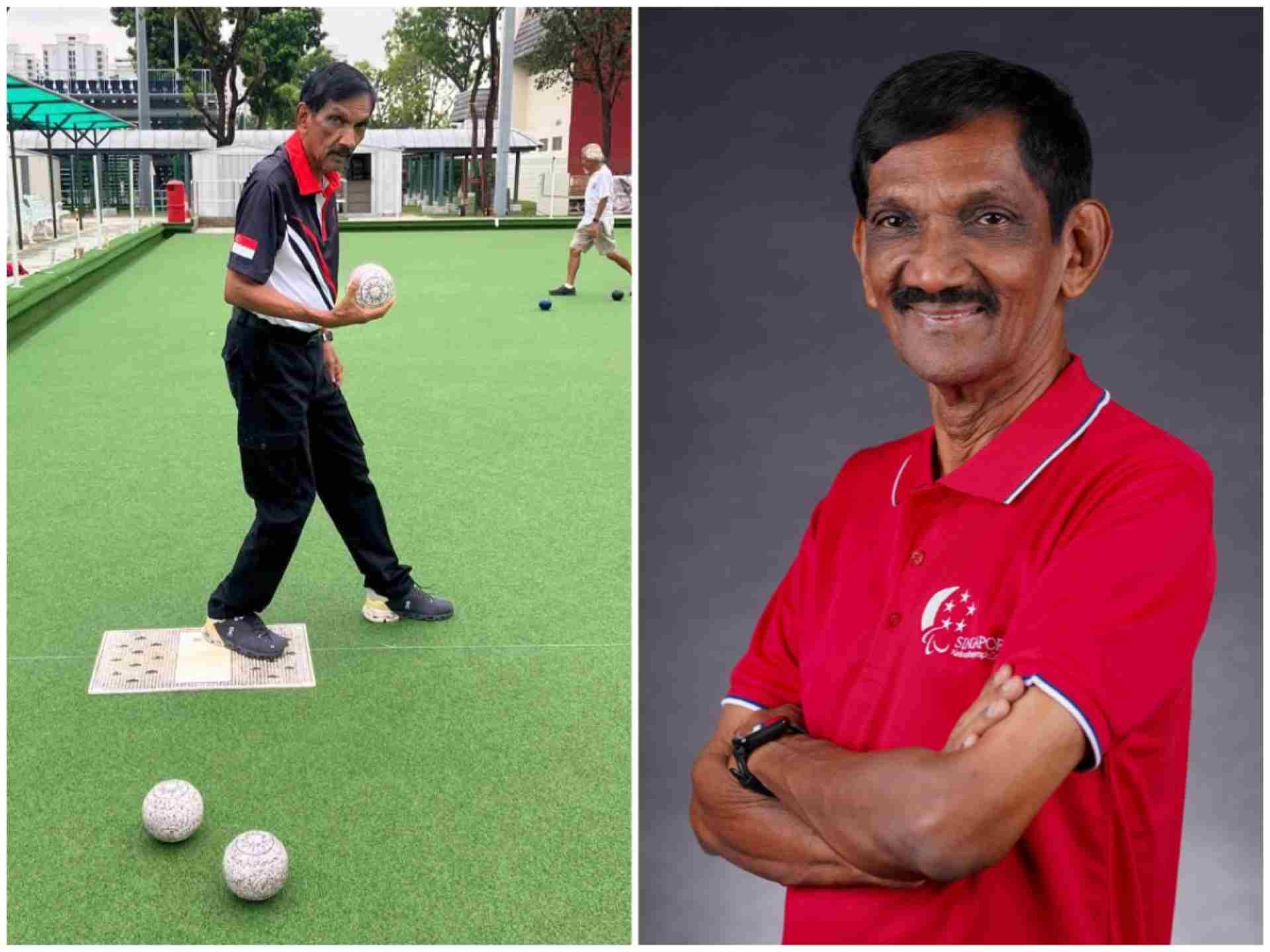 Para lawn bowler Mahendran S/O Pasupathy. | IMAGES: SINGAPORE NATIONAL PARALYMPICS COUNCIL
Who's the oldest?
Para lawn bowler Mahendran S/O Pasupathy, who is 76, proving that age is just a number. And – get this – he is one of the 16 APG debutants from Team Singapore.
"I am incredibly honoured and excited to be selected as a para lawn bowler in the contingent representing our country. As the oldest athlete in the group and someone who only took up the sport in my seventies, it fills me with a sense of pride and accomplishment to have come this far," says Mahendran, who is visually impaired.
"My main goal for the Games is to give my best performance and showcase the capabilities of para athletes. Winning a medal would be a remarkable achievement, but more importantly, I want to demonstrate the dedication and determination that para athletes possess."
What sports will Team Singapore be participating in?
Team Singapore's 31 para athletes will be competing in nine sports:
Archery
Athletics
Badminton
Boccia
Lawn Bowls
Powerlifting
Shooting
Swimming
Table Tennis
How many Team Singapore athletes are making their APG debut?
Out of the 31-strong contingent, 16 are APG debutants:
James Ethan Ang, athletics
Maisarah bte Mohamed Hassan, athletics
Maveric Lee, athletics
Muhammad Nur Ariq bin Yaakub, athletics
Shaman Pandian S/O Jeyabalan, athletics
Ang Chee Hiong, badminton
Aloysius Gan, boccia
James Joseph Michael, lawn bowls
Khirmern bin Mohamad, lawn bowls
Mahendran S/O Pasupathy, lawn bowls
Daniel Chan, shooting
Colin Soon, swimming
Darren Chan, swimming
Han Liang Chou, swimming
Jazlene Tan, swimming
Claire Toh, table tennis
For the latest updates on Wonderwall.sg, be sure to follow us on TikTok, Telegram, Instagram, and Facebook. If you have a story idea for us, email us at [email protected].