Thank This Couple For Helping Your Ah Ma, Ah Gong Understand Coronavirus
Amid all the novel coronavirus-related stories, pictures, comics and videos being circulated online, you might have seen three precautionary videos in Cantonese, Hokkien and Teochew.
If you haven't, you can watch all three of them in our story here.
The folks behind these thoughtful videos? Eugene Lee and Ski Yeo.
The husband-and-wife duo, both aged 36, are the founders of LearnDialect.sg,, an initiative to conduct "dialect classes for healthcare professionals, social workers and volunteers, so that they can better serve dialect-speaking seniors".
Ski speaks English, Hokkien and Mandarin, while Eugene speaks English, Hokkien, Mandarin and Teochew. "As we lived in Hong Kong for 8+ years, we can understand Cantonese too," says Ski.
The couple, who volunteers weekly at a nursing home in Singapore, doesn't have kids but have been teaching their niece and nephews Hokkien and Teochew nursery songs. "We think it's important to let them have fun and gain interest for the languages first!" says Ski.
We managed to catch Ski for a quick chat about LearnDialect.sg, the production of and reception to the precautionary videos, and how they intend to get the younger generation more involved in learning dialects.
How did you come about with the idea to do the precautionary videos in dialects?
Since the outbreak of the Wuhan coronavirus, our volunteering activities were stopped as a safety precaution. That was when we realised that we could not help communicate these precautions to the seniors in person, in their language.
As such, we wanted to create an audio clip where the healthcare professionals (who do not speak their language) can just play and share with their patients.
Coincidentally, the Government announced initiatives to give out masks to every household. We thought this would be a good time to share these precautions to the seniors while they are collecting the masks.
Even if they are not on social media, the least that we or anyone can do, is to play the audio clip for them. In this way, they can understand how to better protect themselves against the Wuhan coronavirus.
Time is of essence, so we had to rush and get the message out as soon as possible. As we worked on the audio and gathered some feedback from seniors, we felt that it was also important to have visuals and subtitles, so that it would make it even easier for anyone to relay these important information to the seniors.
We starting working on these videos during the Chinese New Year holidays. We hope to reach as many dialect-speaking seniors as possible. To do that, we interviewed many seniors – at the kopitiams, in our neighbourhood, etc – to find out how much they knew about the precautions and how would they say certain terms (e.g. mask, Wuhan, tissue etc) in their languages. For example, one formal way to say "mask" in Hokkien is 喙罨 (tshui am). However, when we spoke to the seniors, almost all of them had not heard of the term before.
As such, in the videos, we consciously set out to use words that these seniors are more familiar with. While it's not exactly "pure" Hokkien, Teochew or Cantonese, we hope that that made it easier for them to relate to the videos.
What sort of response have you received for the production of these vids and all your other content?
We were surprised by how everyone is willing to help share the videos - either through WhatsApp, Facebook, Instagram ,or through their Residents' Committee or Neighbourhood Groups. Within a few days, we gathered over 100,000 views for the videos. It's really heartwarming to see everyone coming together to overcome this virus!

How and when did you and Eugene come up with LearnDialect.sg?
LearnDialect.sg was set up in 2018.
Both Eugene and myself volunteer weekly at a nursing home in Singapore. We noticed that most seniors speak dialects but the healthcare professionals or volunteers usually don't. Or there would be times when grandchildren visit the seniors, but they are unable to express their thoughts fully or enjoy one another's company as much as they like, simply because they do not speak the same language.
We thought it would be a meaningful initiative if we can do something to help bridge the communication gap. This would help provide better medical assistance to the seniors as well as build more meaningful bonds. That was how we came up with the idea of starting LearnDialect.sg.
Eugene, you gave up your job as an ex-investment banker to concentrate on helping dialect-speaking speakers. Tell us about that process and your personal journey on giving up the high life to do this.
Eugene: It was not an easy decision to make, given the practicalities in life. But, I have a good wife whose material obsession is just her love for drinking Milo and eating tofu. So our simple lifestyle keeps expenses rather manageable. :)
On a more serious note, the process is rather humbling. For a start, it provided the perfect opportunity to spring-clean my social circle, as some "friends" lost touch after I quit banking.
Other friends and relatives are genuinely concerned if I made the decision with a clear head. After all, dialects are dying languages in Singapore and rationally, it does not seem to make sense to invest my time and efforts in it.
Consequently, I came to realise that it is not easy to let others see why I quit banking for a more social cause. I learnt to recognise and accept that I just have a different perspective and it is not wrong to be myself.
As such, my self-awareness has also become stronger. I have a clearer sense of what I want in my life and however unpopular the path is, I'll move forward with perseverance.
This is the same attitude that I apply to LearnDialect.sg, whenever we make "non-standard" decisions, for example, using everyday words instead of a relatively "purer" dialect version in these precaution videos, due to our intention of relating to as many seniors as possible.
The rest, they say, is history, and well, Milo and tofu. :)
What obstacles did you face setting up this initiative and how did you overcome them?
Honestly, when we were setting up this initiative, almost everyone told us that there was neither a point nor a future in setting up LearnDialect.sg. After all, these are supposedly "dying" languages in Singapore.In addition, the percentage of our population speaking dialects is also dwindling.
So we kept on getting responses like "how much can you help?", "is it really worth your time?" And Eugene would get responses like, "You quit banking for dialects? Dialects haven't die meh? No hope one la."
We understand and appreciate people's concerns, but does it mean that we should just stand by and do nothing? What happens to these dialect-speaking seniors then? How would you feel if you have been living in your own country for decades, but yet, as you grow older and wiser, you communicate lesser and lesser in your own language?
How would you also feel if you can't share your stories with your grandchildren? I wrote about one of my personal encounters in "Speak Hokkien: A Date That Went Terribly Wrong". It's somehing I feel deeply for.
So our first obstacle to setting up LearnDialect.sg was to learn how to block out these objections and set our mind to help these seniors.
Of course, seniors can learn Mandarin or English if they want to. But the opposite is true too, isn't it? Why can't the younger generation learn the dialects?
So that also brings up another challenge for us: to generate enough interest in the younger generation to learn, versus, for example, a seemingly cooler language such as Korean or Japanese, or any other non-language related activities (e.g., kickboxing, cooking).
This is going to be a constant challenge, so we can't say that we have overcome it, but we are doing our best through our online content as well as making our workshops fun and practical!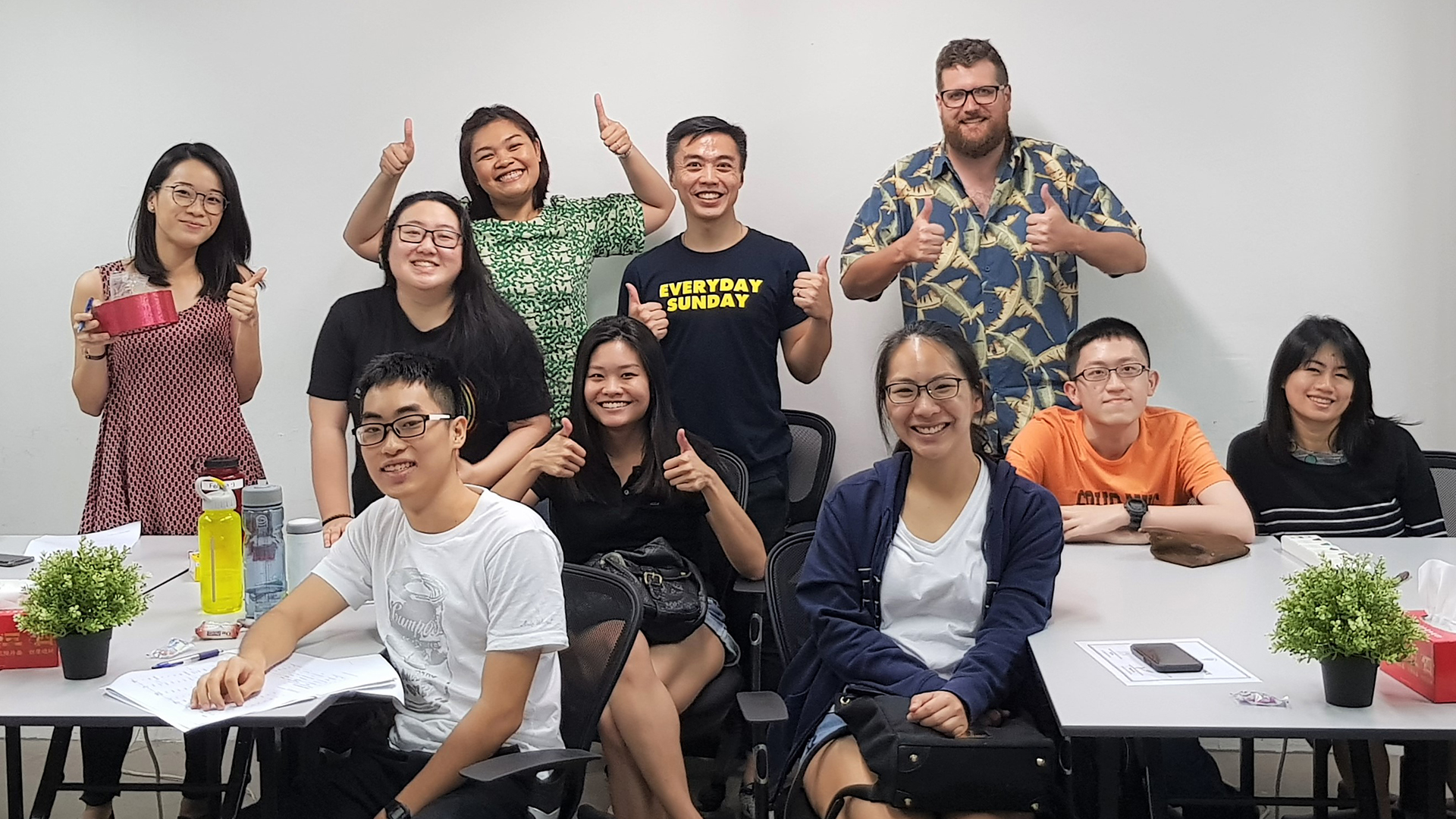 What support do you have? Is it just the two of you or do you have friends or staff to help out?
We started with just the two of us. Now, we also have tutors helping us with Cantonese and some Teochew workshops. Beyond that, we are also appreciative of the help and support from our families. Like most traditional Chinese families, they are not very expressive. But their actions, listening ears and hearty dinners speak louder than words.
Why is learning and preserving dialects important for Singapore and Singaporeans?
A couple of reasons, including to know your own roots and identity. It also allows us to better communicate and build meaningful bonds with our dialect-speaking grandparents and seniors.
What sort of response have you received for your classes? Who attends them?
We have received a lot of positive feedback for our workshops - you can check out our Google reviews. Thus far, we have had the privilege of meeting many interesting participants from all walks of life. Our youngest participant is around 15 and our oldest participant is around 60.
As our workshops are taught in English, it also gives non-Mandarin speakers the opportunity to learn dialects. As such, we have members of our Malay, Indian and expatriate communities joining us for our workshops too.
They want to learn dialect so that they can better communicate with their partner's family or for those who are in the healthcare industry, to better serve their dialect-speaking patients. It's always inspiring to hear their reasons for learning dialects!
Do you see younger people coming forward to learn dialects?
Yes, our general observation is that most participants are young people. Many of them are picking up dialects to get in touch with their cultural roots as well as to connect meaningfully with their grandparents.
For example, one of our students is hoping to pick up Hokkien as quickly as possible, because she wants to better connect with her grandmother who has unfortunately fallen critically ill. The conversations that they had previously were largely pleasantries due to the communication gap. So time is of essence, and learning Hokkien became a priority for this student.
Thus far, we have come across many of these real-life scenarios that tugged at our heartstrings. In addition, many participants also learn dialects, when they are planning to work in the healthcare industry, as they may have to care for dialect-speaking patients in the future.
Being able to connect in the same language would improve the interaction and communication.
What do you do to engage them and keep them interested in their dialects?
We believe in a fun-based learning system that goes beyond rote learning. Thus, during our workshops, we have created many little activities and mini-games to trigger their interest in the languages as well as provide a safe environment to learn and make mistakes.
Will you consider teaching and creating content for other dialects like Hakka and Hainanese?
Yes, of course! Unfortunately, we do not have Hakka nor Hainanese experts in our team. That said, if anyone is willing to help create content or teach these languages, let us know as we are more than happy to work together!
For the latest updates on Wonderwall.sg, be sure to follow us on Facebook and Instagram. If you have a story idea for us, email us at [email protected].