You Won't Be Able To Stay Quiet About These Cool Singapore Libraries
I'm a huge manga and superhero comics fan, but let's face it, buying new books can be expensive, and finding space for them at home is a challenge. Luckily, I can borrow a selection of these beloved comics at our local public libraries.
So, you can imagine my excitement in February when a dedicated pop-up comics library opened in City Square Mall. I made multiple visits to this haven before it closed in August.
But now, oh joy, it's returned better than ever, this time at Anchorpoint (the mall opposite IKEA Alexandra Road), and it's here to stay for at least another year.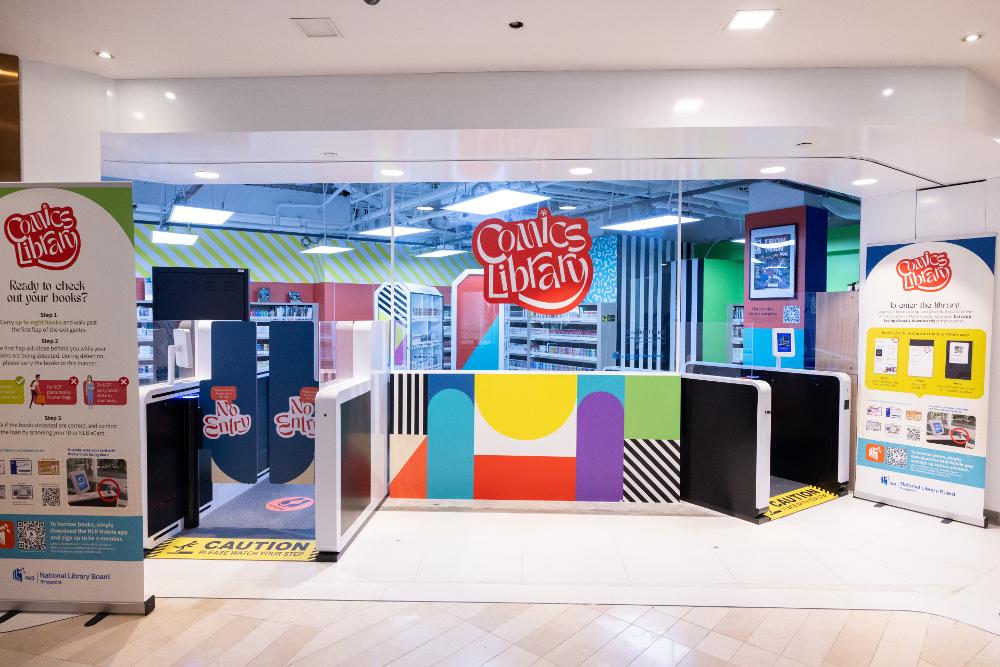 IMAGE: NATIONAL LIBRARY BOARD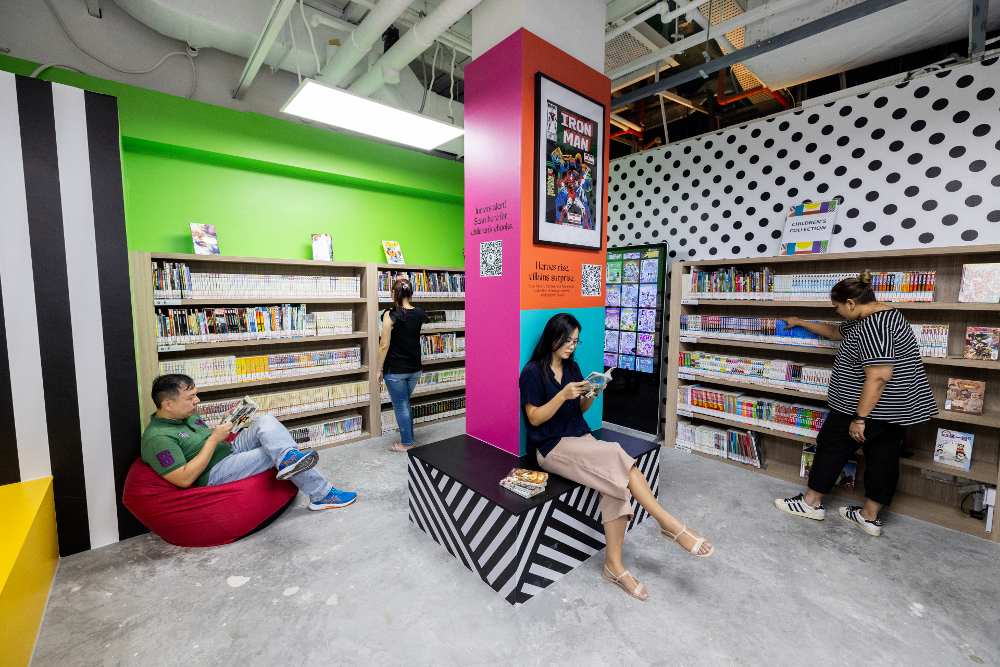 IMAGE: NATIONAL LIBRARY BOARD
The Comics Library, on the first floor near Anchorpoint's main entrance, is a visual treat. It's got this cool, playful vintage comics vibe, paying homage to the pop art style of the 1950s and 60s.
Inside, you'll find a treasure trove of 7,500 books, a number that's set to grow: National Library Board (NLB) is planning to bump this up to over 11,000 titles by early 2024. These include 9,500 in English, 800 in Chinese, 400 in Malay, and 400 in Tamil, catering to both adults and kids.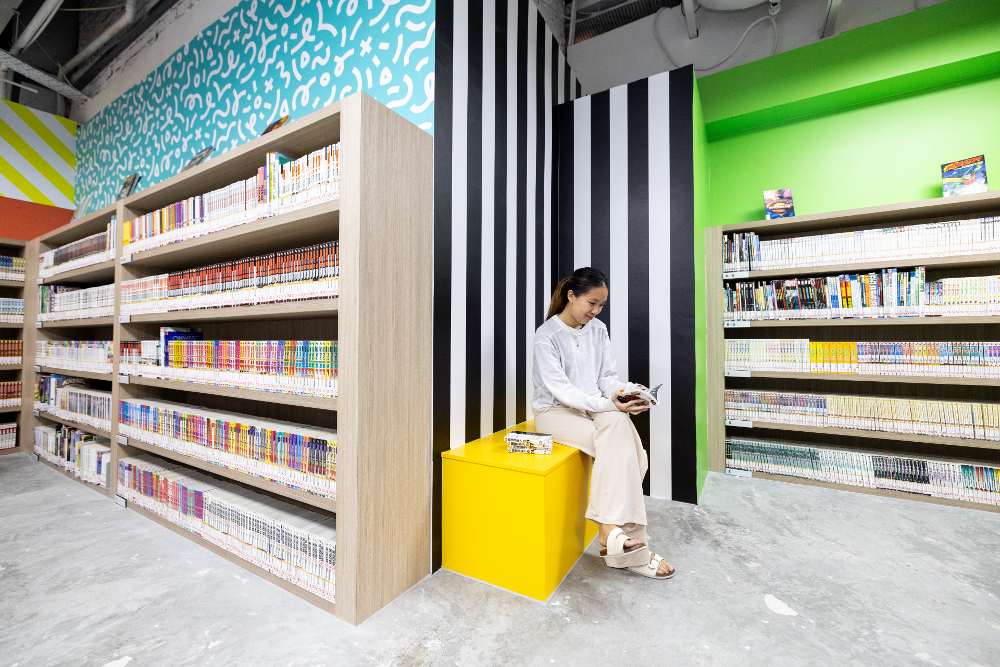 IMAGE: NATIONAL LIBRARY BOARD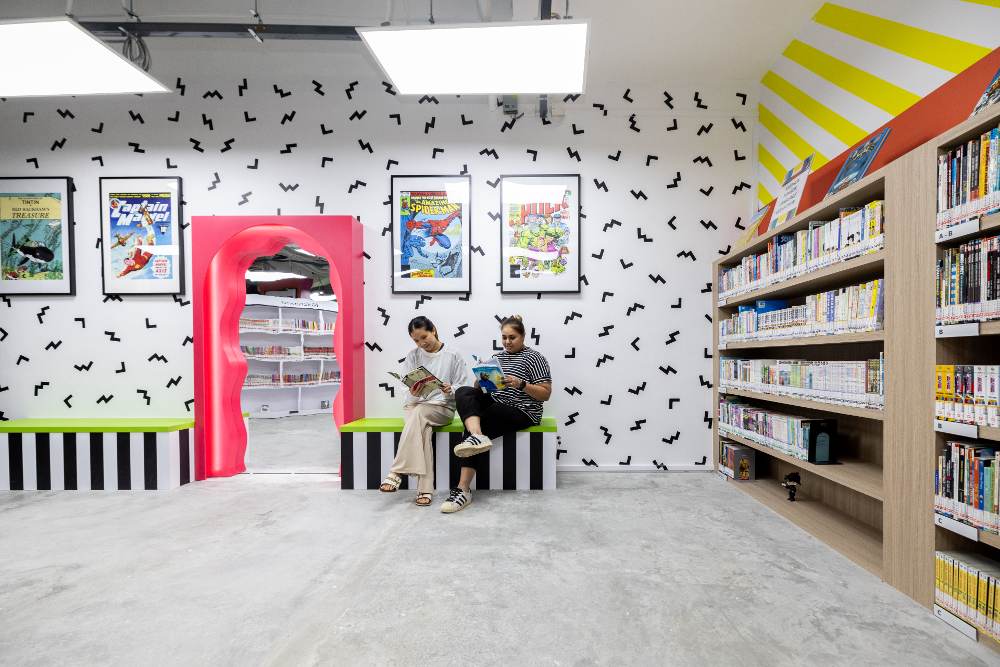 IMAGE: NATIONAL LIBRARY BOARD
All the books from the old Manga Library are here, and they've even thrown in an English-language collection of famous comics and graphic novels (think: Marvel and DC heroes). And if that's not enough, they've got collections in Chinese, Malay, and Tamil too – ensuring there's something for every reader.
The Comics Library is equipped with NLB's Grab-n-Go service, making borrowing a breeze. Just scan your ID, pick your comics, and you're good to go.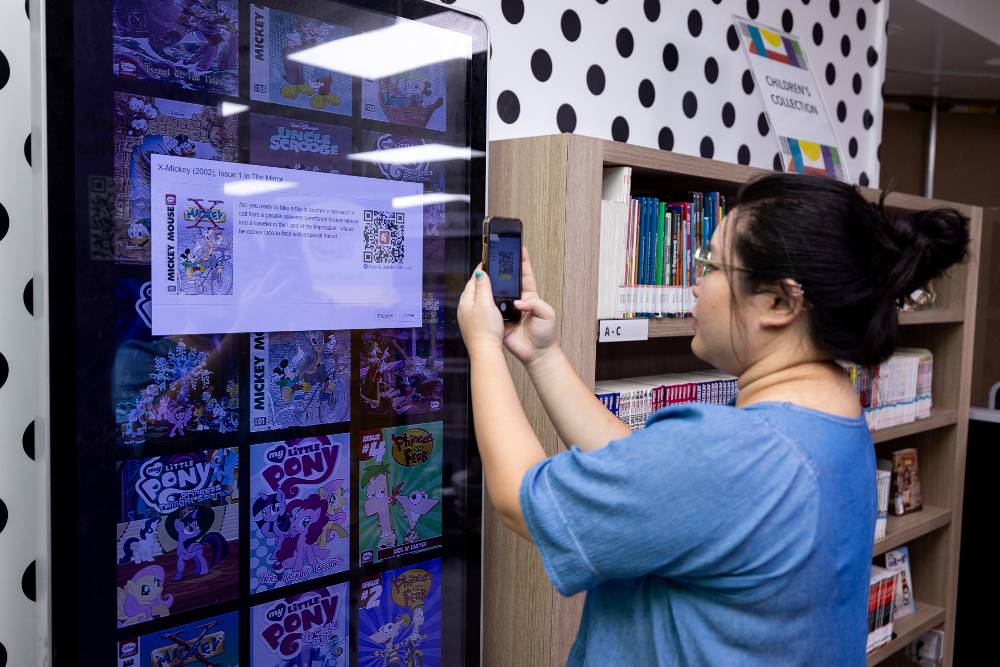 IMAGE: NATIONAL LIBRARY BOARD
But there's more to this place than just physical books. They've got a Wallpaper Library with QR codes for e-book collections in comics, graphic novels, and manga genres, plus two e-Read screens for checking out popular manga and comic e-titles on the spot.
Check it out, you must!
Meanwhile, here's a list of other cool libraries in the Lion City, each with its own unique charm: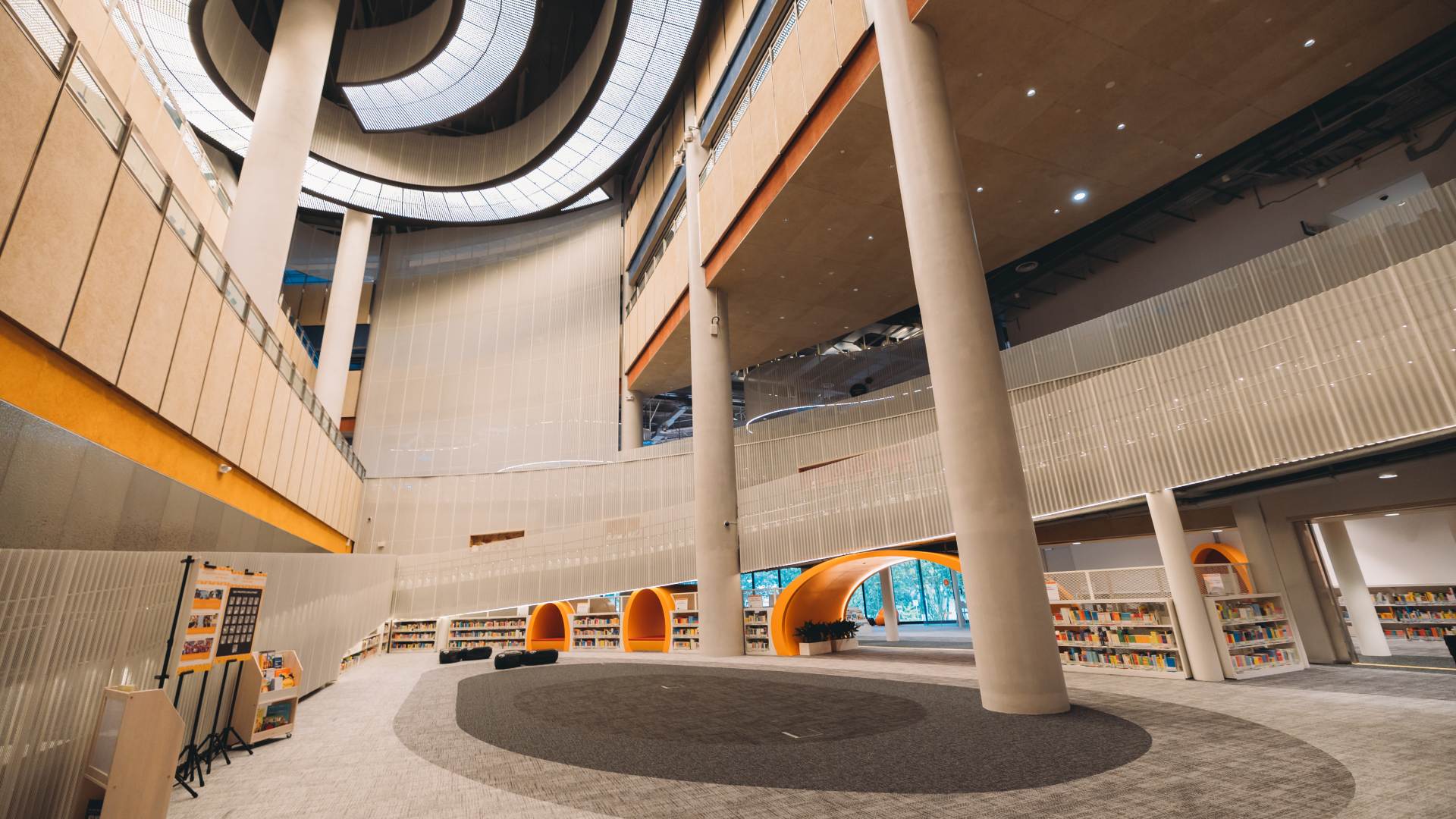 IMAGE: NICHOLAS YONG
Punggol Regional Library
1 Punggol Drive, One Punggol #01-12, Singapore 828629
The Punggol Regional Library in One Punggol is dedicated to making learning fun for kids. Spark!Lab allows kids' imaginations to run wild and invent cool things, or visit the Storyteller Cove where kids can role play or make stories to share with their friends. The library was also designed with the disabled community in mind, featuring coloured keyboards with larger keys to aid those with visual impairments, while the Borrow-n-Go station makes it easier for wheelchair users to borrow books by passing through a special passageway. The top floors have co-working spaces, programmes, and activities for teenagers and adults.
The Library of Botany and Horticulture Singapore
Botanic Gardens, 1 Cluny Rd, Singapore 259569
Yes, the Singapore Botanic Gardens has a library! Founded in 1875, it is one of the oldest specialised libraries in Southeast Asia, and houses a massive collection of books on flora and fauna. While you can't take the books home with you, you can peruse the library's collection all day long. Plus, check out the impressive collection of plant-based artifacts on display at the library.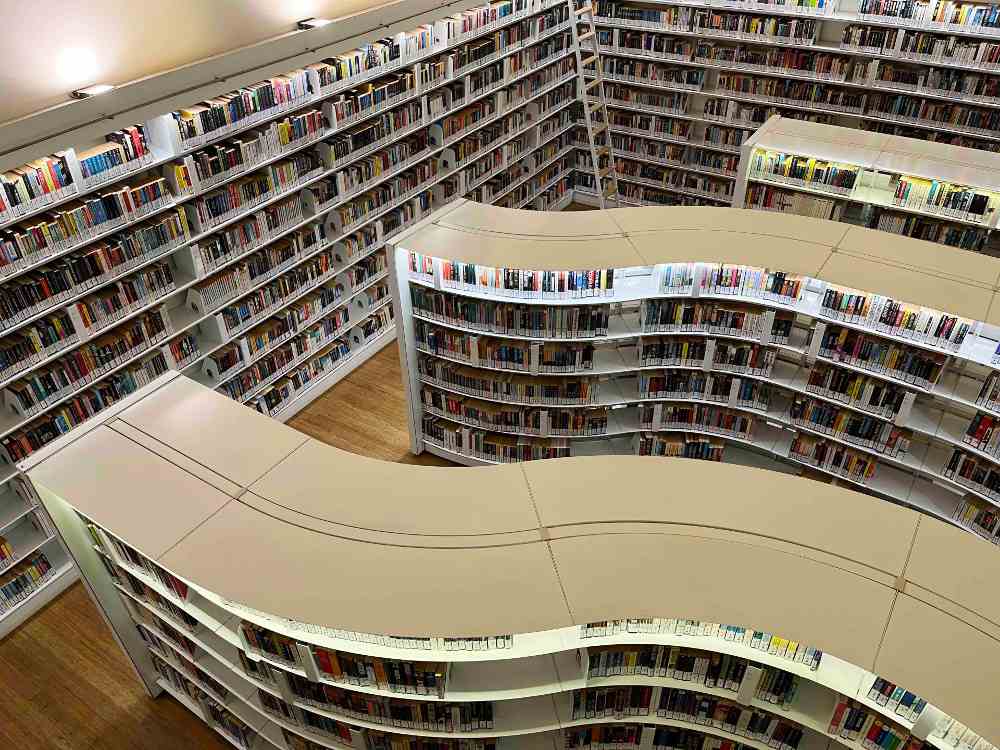 IMAGE: NICHOLAS YONG
library@Orchard
Orchardgateway, 277 Orchard Rd, #03-12 / #04-11, Singapore 238858
You've definitely seen photos of the curved bookshelves here on your social media feed. And it's no wonder lah – the style of this library focuses on lifestyle, design and the applied arts. The first double-storey library located within a mall won Design of the Year under the President's Design Award Singapore 2015, and was also showcased at the 16th International Architecture Exhibition of the Venice Biennale.
Bishan Public Library
#01-01, 5 Bishan Place, Singapore 579841
With its 16 coloured windows protruding from the side of the building, this library's avant-garde architecture sets it apart from all the other libraries in Singapore. But these aren't just for decoration; the pods are actually quiet reading spaces! It's no surprise that the Bishan Public Library won the President's Design Award and Design of The Year Award in 2007, as well as the International Architecture Award in 2009. It was also listed among Newsweek's top 8 most innovative libraries in 2020.
National Library
100 Victoria Street, #14-01, Singapore 188064
Did you know our flagship National Library building on Victoria Street was constructed with environmentally friendly elements such as automatic blinds, sun shades, daylight sensors, and even rain sensors? It has won several awards for its "green" features, including the Green Mark Platinum Award from BCA Singapore in 2005 and the ASEAN Energy Efficiency Award in 2007. It also houses the World's First Green Library, "My Tree House," which aims to instill a love of nature in children. Even Queen Elizabeth II has paid a visit before.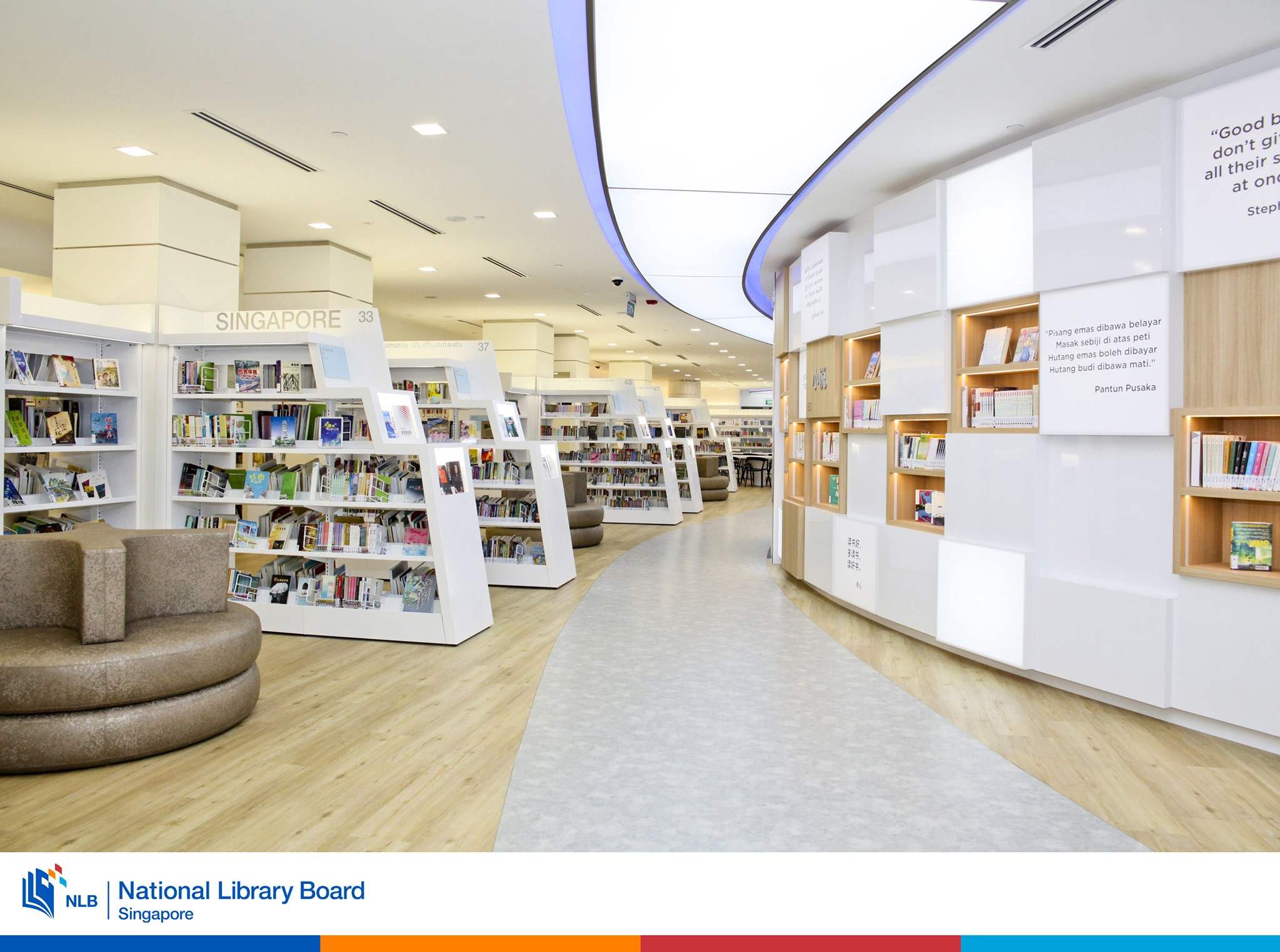 IMAGE: FACEBOOK/@NLBSINGAPORE
Yishun Public Library
930 Yishun Ave 2 #04-01 North Wing Northpoint City, 769098
Located on the 4th floor of Northpoint City, the interior of this library is inspired by Yishun's past as a plantation and its transformation into a bustling suburban estate. The main pathway is mirrored by a ceiling light panel that directs you to the various sections of the library. Get comfy with a book in hand at one of the library's 26 cosy individual nooks.
For the latest updates on Wonderwall.sg, be sure to follow us on TikTok, Telegram, Instagram, and Facebook. If you have a story idea for us, email us at [email protected].