National Monuments Of Singapore: Telok Ayer Chinese Methodist Church
What is a National Monument? Who gazettes them? How many national monuments are there in Singapore? To date, the Preservation of Sites and Monuments, a division of National Heritage Board, has identified and gazetted 75 buildings, structures and sites of national significance as an integral part of Singapore's built heritage.
And we're here to tell you all about them - one National Monument at a time!
You've probably passed by or stepped into more than a few of them without realising they were National Monuments: Al-Abrar Mosque, Asian Civilisations Museum, the Civilian War Memorial, Saint Andrew's Cathedral, the Esplanade Park Memorials, Fort Siloso on Sentosa - no need to plan an itinerary for friends visiting from overseas; just show them this article ✌️
In this edition, we zoom in on the first Chinese Methodist Church to be established in Singapore, Telok Ayer Chinese Methodist Church (TACMC).
📍 Location
TACMC was the 21st building to be gazetted as a National Monument in Singapore, and is located near other iconic National Monuments - the Thian Hock Keng Temple, Former Keng Teck Whay Building and Former Nagore Dargore. The MRT stations nearest to it are Telok Ayer and Tanjong Pagar.
📅 Significant dates
Dates built:
1889: Began as Hokkien Church on Nankin Street
1905: Relocated to Boon Tat Street, now known as Telok Ayer Church
1913: A tent was built on the land upon which TACMC today stands
1921-1924: Construction of TACMC
Milestones:
1915: A wooden hut with a zinc roof was built
19 Jan 1924: The stone-laying ceremony of TACMC took place
11 Jan 1925: TACMC was consecrated by Bishop Titus Lowe of the American Mission
Date gazetted: 23 Mar 1989
📜 History

In 1887, an American medical doctor (who was also a Methodist missionary) named Benjamin West arrived in Singapore with his wife. Two years later, after moving to Chinatown, he opened a clinic in a shophouse on Nankin Street (located on the site of today's Hong Lim Park). Shortly after, West converted the shophouse into a space for Sunday worship services. This was the humble beginning of TACMC.
Initially, the congregation comprised mainly Hokkien and Foochow Chinese. As those speaking the Foochow dialect increased in number, they left to form a new church, Foochow Methodist Church. The remaining congregation at Telok Ayer Church – as the church was known then – became predominantly Hokkien-speaking.

A parcel of land at Japan Street (today's Boon Tat Street) was subsequently acquired in 1905 to accommodate the growing congregation. In 1913, the church's pastor, Reverend F. H. Sullivan, bought a plot at the junction of Telok Ayer Street and Cecil Street (where TACMC stands today).
Services were conducted under a tent on the vacant plot, but the structure soon collapsed in 1914. The Chinese congregation then met at Fairfield Girls' School on Neil Road for weekly worship. By September 1915, another temporary building made of wood and corrugated iron was constructed on the same vacant plot.
It was only in 1921 that plans to construct a permanent church building began. More land was acquired, and the foundation stone was laid by the local Methodist bishop, G. H. Bickley on 19 Jan 1924. A year later, on 11 Jan 1925, Bishop Titus Lowe – the successor to Bishop Bickley – consecrated the church.
In its early years, Telok Ayer Church even provided welfare to its parishioners, such as helping the illiterate to write letters to be sent to their families in China.
During World War II, when the Japanese began attacking Singapore, the church's exterior walls along the five-foot-way were thickened to provide additional protection against stray bullets and bomb shrapnel. About 300 refugees took shelter within the church building. During the Japanese Occupation (1942–1945), weekly Sunday services continued to be held.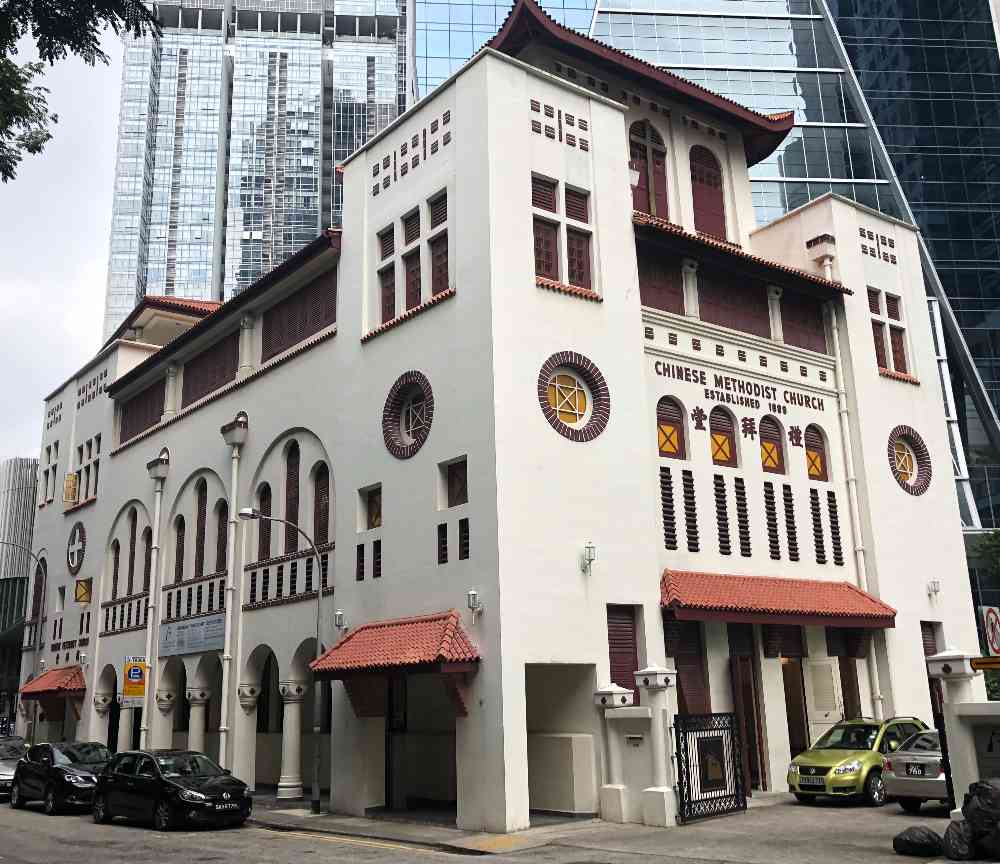 IMAGE: WIKIMEDIA COMMONS/@BJOERTVEDT
📐 Design and architecture
TACMC was designed by Denis Santry of Swan & Maclaren, who was also the architect for the Cenotaph (another structure gazetted as a National Monument of Singapore).
The building's architecture is an eclectic fusion of Eastern elements and Western functionality. European architectural features, such as the extensive use of arches, can be seen around the church building. The structure on top the front of the building, however, is capped by a distinctively Chinese-style roof.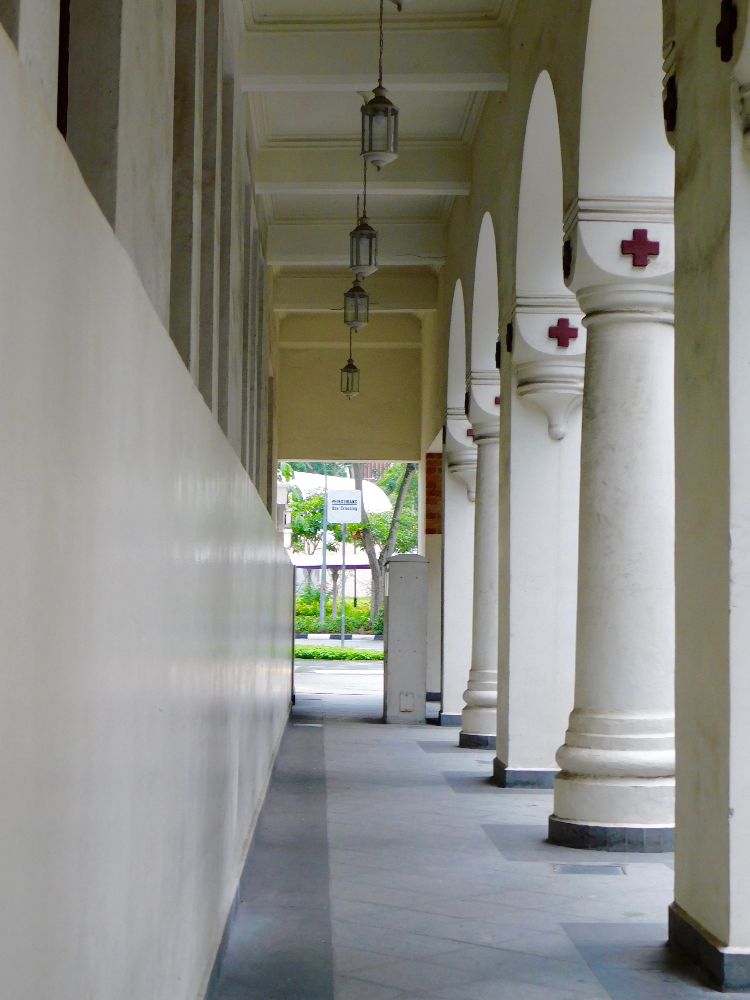 IMAGE: WIKIMEDIA COMMONS/@ROYSOUZA
In addition, the piers and columns running along the five-foot-way with small crosses decorating their cushioned capitals are features derived from Byzantine architecture. Several doors and windows with louvres ensured that the interior was well ventilated prior to the advent of air-conditioning.
On the ground level is the church's social hall, named after Benjamin West. The sanctuary is located on the building's second storey.
Shortly after being gazetted as a National Monument, the church embarked on a restoration project, during which the four original timber panels behind the altar were uncovered in 1995. On the panels are gold-leafed characters that read shang di shi ai (上帝是爱, "God is Love").
On either side of the altar are round decorative windows with coloured glass. Lining the walls of the sanctuary are six Chinese characters representing both Christian virtues and Chinese values: gong (恭, "reverence" or "respect"), qian (虔, "piety" or "sincerity"), sheng (圣, "holiness"), xin (信, "faith" or "trustworthiness"), ren (仁, "benevolence"), and ren (忍, "tolerance").
🕖 Opening hours

The church is temporarily closed for renovations. Find out more here.
🎟️ Admission
Entry is free.
For the latest updates on Wonderwall.sg, be sure to follow us on TikTok, Telegram, Instagram, and Facebook. If you have a story idea for us, email us at [email protected].